Qualitative Analysis of a Virtual Near-Peer Pediatrics Boot Camp Elective
Laura Even Elliott, MD; John J. Petosa Jr., MD; Amy B. Guiot, MD, MEd; Melissa D. Klein, MD, MEd; Lisa E. Herrmann, MD, MEd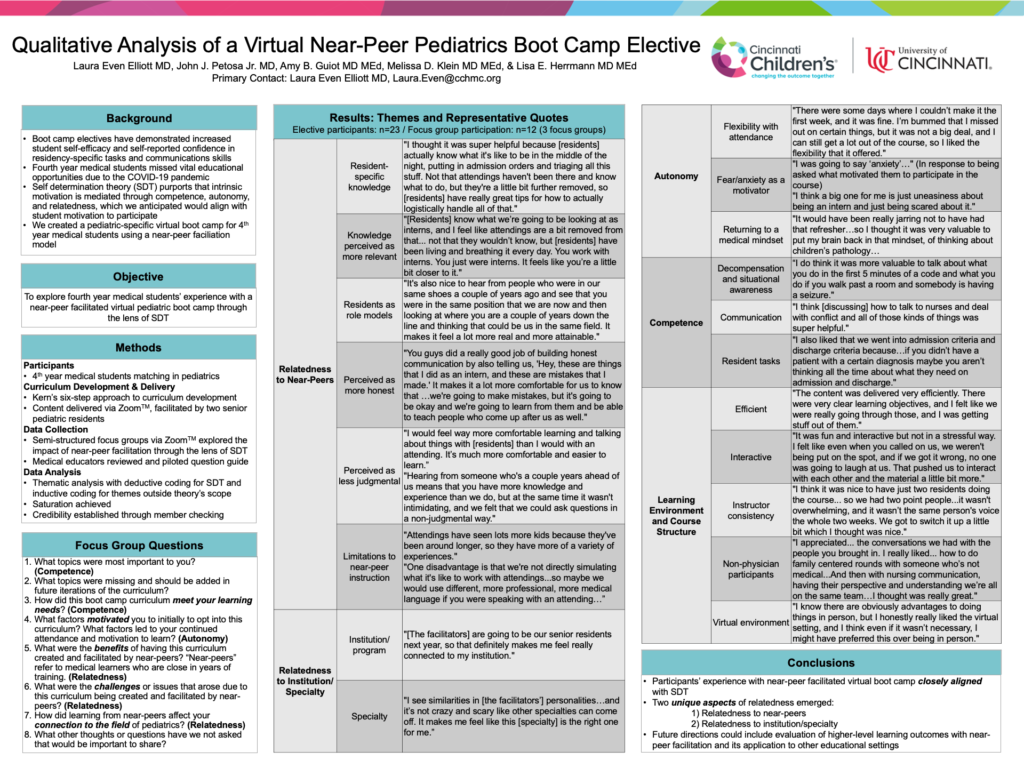 Abstract
Background: Boot camps have demonstrated effectiveness for pediatric residency preparation with outcomes including increased student self-efficacy and self-reported confidence in residency-specific tasks and communication skills. A virtual pediatric boot camp elective, created and facilitated by pediatric residents, provided non-clinical experiences during the COVID-19 pandemic using a near-peer facilitation model.
Objective: To explore fourth year students' experience with a virtual, near-peer facilitated pediatric boot camp through the lens of self-determination theory (SDT).
Methods: A virtual pediatrics boot camp elective for 4th year medical students pursuing pediatrics residency was developed using Kern's six steps of curriculum development. A targeted needs assessment of students and pediatric program directors informed course content, which was created and delivered by two pediatrics residents. The two-week virtual elective consisted of video conference lectures and small group discussions. Semi-structured focus groups were conducted after elective completion. Using SDT as our conceptual framework, we chose phenomenology to explore participants' experience with near-peer facilitation of the boot camp. Focus group recordings were transcribed and thematically analyzed using deductive coding for SDT, with inductive coding for themes outside the theory's scope. The codebook was iteratively revised through peer debriefing between coders and reviewed by other authors. Saturation was reached during coding of the third focus group. Credibility was established through member checking.
Results: Ninety-two percent of eligible medical students (n=23/25) participated in the boot camp with attendance ranging from 18-21 students per session. Twelve students (52%) participated in 3 focus groups. Qualitative analysis identified five major themes. Four themes consistent with SDT emerged: competence, autonomy, relatedness to both near-peers and specialty/institution. The learning environment, including the virtual setting, emerged as an additional, non-SDT related theme.
Conclusions: Themes identified closely align with the components of SDT: competence, autonomy and relatedness. Near-peer relatedness emerged as a separate theme which could be further investigated in other aspects of medical student education. Future research could evaluate higher-level learning outcomes from near-peer educational opportunities.