Kelly Rang, MD; Marissa Vawter-Lee, MD; Niranjana Natarajan, MD; Paul Horn, PhD; Andrea C. Pardo, MD; Cameron Thomas, MD, MS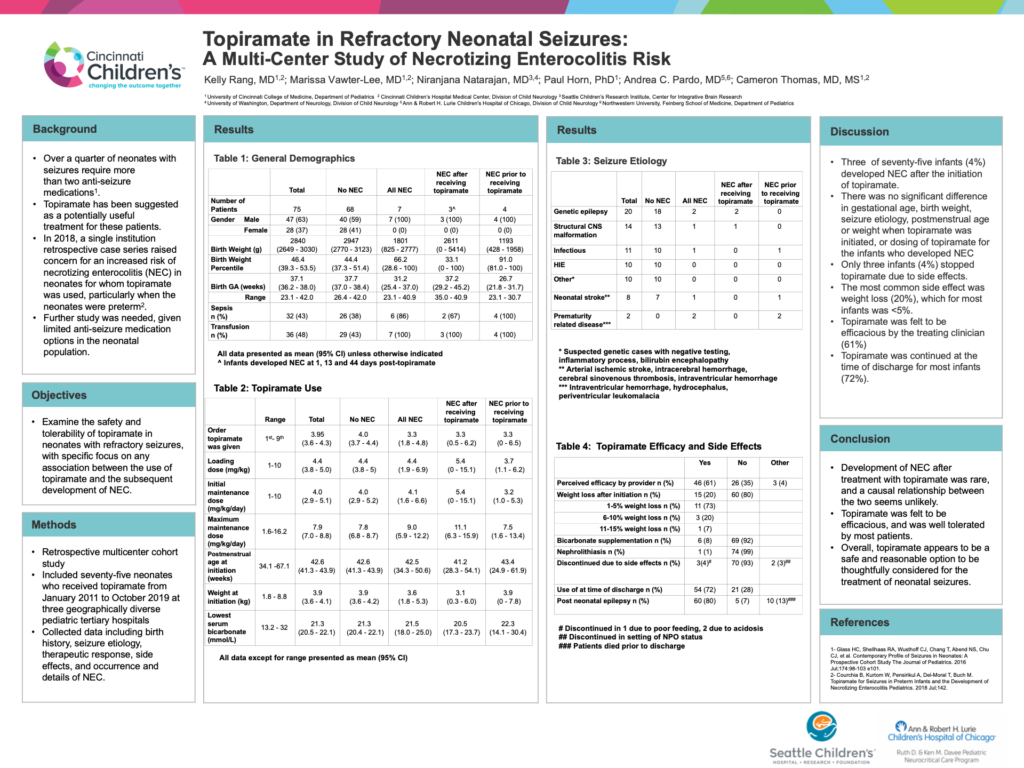 Abstract
Background: Over a quarter of neonates with seizures require more than two anti-seizure medications or have medication resistant or refractory seizures.Topiramate has been suggested as a potentially useful treatmentfor these patients. In 2018, a single institution retrospective case series raised concern for an increased risk of necrotizing enterocolitis (NEC) in neonates for whom topiramate was used, particularly when the neonates were preterm. Although this study did state that no causative relationship could be determined, the inference was that topiramate use was potentially unsafe. Further study is needed, given limited anti-seizure medication options in the neonatal population.
Objective: This study examines the safety and tolerability of topiramate as an anti-seizure medication in neonates with refractory seizures, with specific focus on any association between the use of topiramate and the subsequent development of NEC. We hypothesized that the risk of developing NEC following topiramate use was low, and that most neonates would clinically tolerate topiramate.
Methods: Seventy-five neonates who received topiramate from January 2011 to October 2019 at three geographically diverse pediatric tertiary hospitals were identified in this retrospective multicenter study. Data collected included birth history, seizure etiology, therapeutic response, side effects, and occurrence and details of NEC.
Results: Three of seventy-five infants (4%) developed NEC after the initiation of topiramate. For the infants who developed NEC, there was no significant difference in gestational age, birth weight, seizure etiology, postmenstrual age or weight when topiramate was initiated, or dosing of topiramate. Overall, topiramate was well tolerated, with only three infants (4%) stopping it due to side effects. The most common side effect was weight loss (20%), which for most infants was <5%. Topiramate was felt to be efficacious by the treating clinician (61%) and was continued at the time of discharge for most infants (72%).
Conclusions: Development of NEC after treatment with topiramate was rare (4%), and a causal relationship between the two seems unlikely. Topiramate was felt to be efficacious and was well tolerated by most patients. Overall, topiramate appears to be a safe and reasonable option to be thoughtfully considered for the treatment of neonatal seizures.