Justin Ferrell, MD; Eily Cournoyer, MD; Ashish Kumar, MD, PhD; Michael Jordan, MD; Jennifer Picarsic, MD; Susan Sharp, MD; Adam Nelson, MBBS, FRACP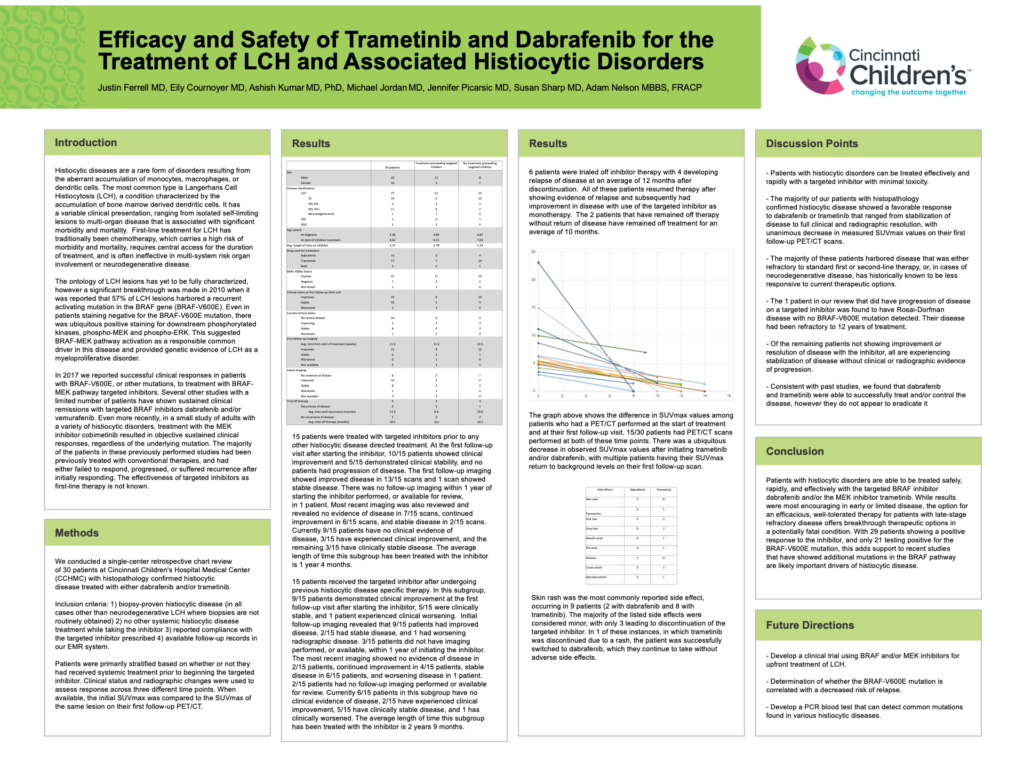 Abstract
Background: Traditional treatment for histiocytic disorders is associated with a high degree of morbidity and mortality, requires central access for the duration of treatment, and is often ineffective in extensive or neurodegenerative disease. With the recent discovery of BRAF-MEK pathway activating mutations being linked to histiocytic disorders, there is potential for targeted inhibitors to provide new therapeutic options.
Methods: A single-center retrospective chart review was performed on 30 patients at CCHMC with histiocytic disease treated with either dabrafenib and/or trametinib. Stratification was based on whether patients received systemic treatment prior to beginning the targeted inhibitor, or whether it was first-line therapy. Clinical status and radiographic changes were used to assess response.
Results: All patients treated with the targeted inhibitors as first-line treatment showed a favorable clinical and radiographic response. Most recent imaging shows no detectable disease in 6/14 scans, improvement in 5/14 scans, and stable disease in 2/14 scans. Currently 9/14 patients in this cohort have no clinical evidence of disease, 2/14 have experienced clinical improvement, and the remaining 3/14 have clinically stable disease over an average of 1 year 5 months after starting inhibitor therapy. With the exception of one patient with progressive and refractory BRAF-V600E negative neurodegenerative LCH and one patient with multiple relapsing BRAF-V600E negative Rosai-Dorfman disease, the remainder of patients receiving an inhibitor after undergoing previous treatment showed a favorable response. Most recent imaging shows no detectable disease in 2/16 patients, improvement in 4/16 patients, stable disease in 7/16 patients, and worsening disease in 1/16 patients. Currently, 7/16 patients have no clinical evidence of disease, 2/16 have clinical improvement, 5/16 have stable disease, and 2/16 have clinically worsened over an average of 2 years 8 months. Side effects were generally minor, with only two leading to permanent discontinuation of the inhibitor.
Conclusions: Patients with histiocytic disorders can be treated safely and effectively with the targeted BRAF inhibitor dabrafenib and/or the MEK inhibitor trametinib. While results were most encouraging in early or limited disease, the option for an efficacious, well-tolerated therapy for patients with late-stage refractory disease offers breakthrough therapeutic options in a potentially fatal condition.