Improving Communication of Diagnostic Uncertainty to Families of Hospitalized Children
Eleanor Eckert, MD; Joelle Kane, MD; Carrie Bramlee; Kristen Timmons, MS; Jodi Kelley, APRN, CPN; Philip A. Hagedorn, MD, MBI; Patrick W. Brady, MD, MSc; Trisha L. Marshall, MD, MSc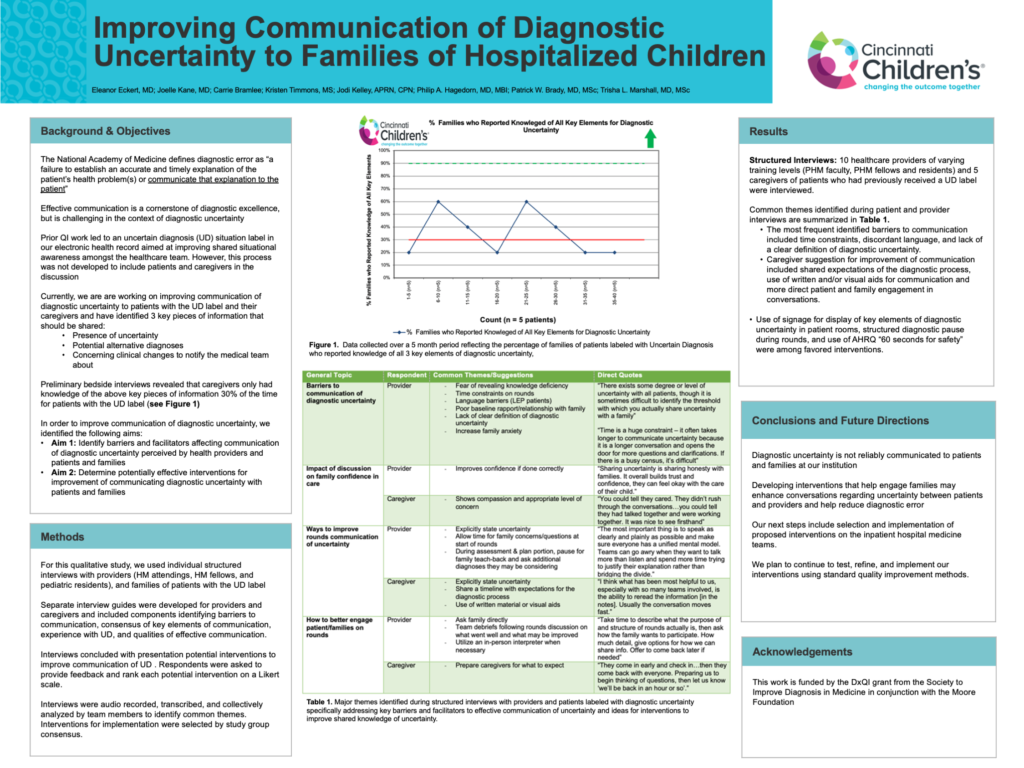 Abstract
Background: Effective communication to patients and families is a cornerstone of diagnostic excellence. Uncertainty is often present throughout the diagnostic process and can make effective communication difficult. We identified three key elements that should be communicated to families of patients with uncertain diagnoses (UD) including 1) the presence of uncertainty, 2) potential alternative diagnoses, and 3) concerning clinical changes to notify the medical team about. At our institution, only 30% of families of patients with UD admitted to hospital medicine (HM) demonstrated knowledge of these three elements during their hospitalization.
Objective: Identify current barriers and facilitators affecting communication of diagnostic uncertainty perceived by healthcare professionals, patients, and families as well as determine potentially effective improvement interventions.
Methods: We completed individual structured interviews with HM providers and caregivers of patients with UD. Separate interview guides were developed for providers and caregivers addressing barriers to communication, consensus of key elements of communication, experience with UD, and qualities of effective communication. Interviews concluded with presentation of potential interventions to improve communication of UD. Respondents provided feedback and ranked effectiveness of each intervention on a Likert scale. Interviews were audio recorded, transcribed, and collectively analyzed by team members to identify common themes. Interventions for implementation were selected by study group consensus.
Results: Ten provider and five caregiver interviews were conducted. Identified themes are summarized in Table 1. Common barriers to communication of uncertainty included time constraints, language barriers, and lack of clear definition of UD. Caregiver suggestions for improvement included shared expectations of diagnostic process and use of written and visual materials. Use of signage containing key elements of diagnostic uncertainty for display and structured diagnostic pause during rounds, which includes targeted questions for patients and caregivers to ensure shared understanding, were among the most favored interventions.
Conclusions: Diagnostic uncertainty is not reliably communicated to patients and families at our institution. Developing interventions that engage families as a part of diagnostic discussion may enhance conversation of uncertainty between providers and patients. Next steps include selection and implementation of proposed interventions with plans for refinement through standard quality improvement methods.
Table 1. Major Themes identified regarding barriers and facilitators of communication of diagnostic uncertainty