Effectiveness of Real-World Peanut Oral Immunotherapy at a Large Tertiary Referral Academic Center
Bridget E. Wilson, MD; Adam Z. Magier, MD; Sandra Andorf, PhD; Ashley L. Devonshire, MD, MPH; Erick J. Madis, BS; Chen Rosenberg, MD; Sandy R. Durrani, MD; Amal H. Assa'ad, MD, Justin T. Schwartz, MD, PhD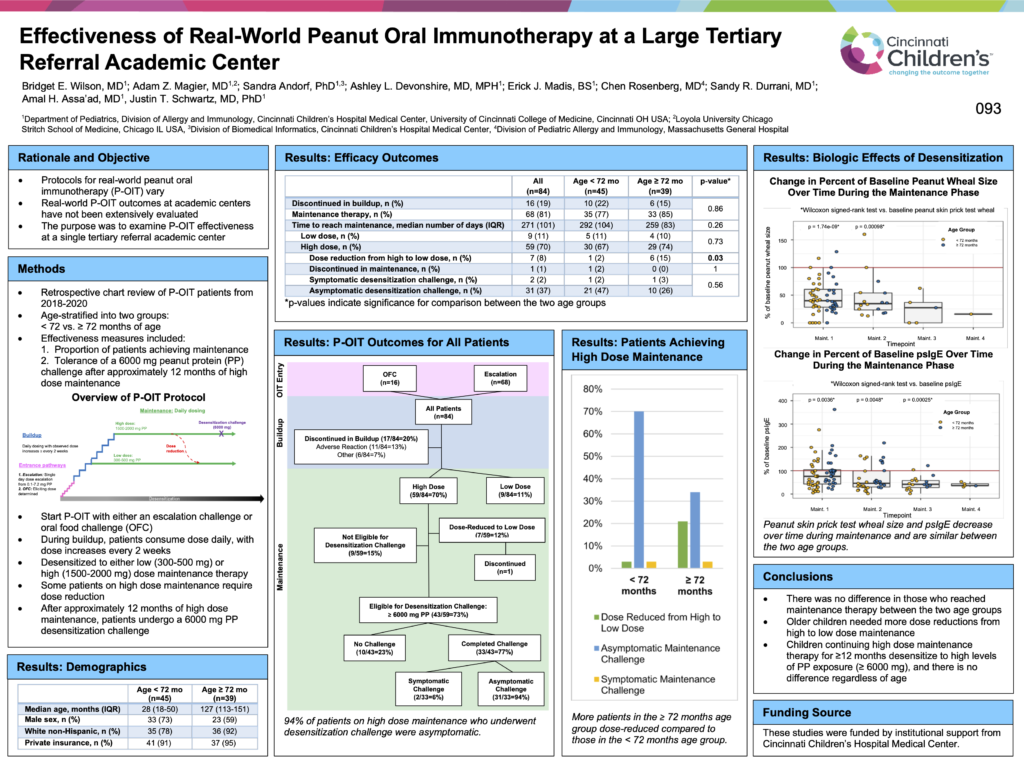 Abstract
Background: Real-world peanut oral immunotherapy (P-OIT) protocols vary. Real-world P-OIT outcomes at academic centers have not been extensively evaluated.
Objective: We compared P-OIT effectiveness in children < 72 months of age versus ≥ 72 months of age at a single tertiary referral academic center.
Methods: We retrospectively reviewed patients undergoing real-world P-OIT from 2018-2020. Patients were desensitized to low- (300-500 mg) or high-dose (1500-2000 mg) daily peanut protein (PP) based on tolerance and patient-centered treatment goals. Effectiveness measures included: 1) proportion of patients achieving maintenance, and 2) tolerance of a 6000 mg PP challenge after 12 months of high-dose maintenance. Patients were age-stratified: <72 months (preschool aged) versus ≥72 months.
Results: Eighty-four patients underwent P-OIT (<72 months: n=45, median age: 28 months [IQR: 18-50]; ≥72 months: n=39 median age: 127 months [IQR: 113-151]). Seventeen patients (20%) discontinued before maintenance, 11 (13%) due to adverse reactions. Eighty-one percent achieved maintenance (n=68/84), and 70% achieved high-dose (n=59/84) regardless of age (preschoolers: n=30/45, 67% vs older children: n=29/39, 74%). Six patients ≥72 months on high-dose maintenance reduced to low-dose due to adverse reactions and/or taste aversions and 1 patient <72 months discontinued. The difference in dose reduction between the two age groups was statistically significant (p=0.03). Of 59 patients achieving high-dose, 43 were eligible for the 12-month 6000-mg PP challenge, and 31/33 (94%) tolerated the challenge without adverse symptoms. For both effectiveness measures, there were no significant differences between age groups.
Conclusions: Children tolerated P-OIT regardless of age, but older children needed significantly more dose reductions when desensitized to high-dose maintenance therapy. Children continuing high-dose maintenance for ≥12 months desensitize to high levels of PP exposure, which is consistent with other clinical trials and real-world P-OIT. Tolerance of the 6000-mg PP challenge is indicative of the protection that high-dose maintenance therapy can provide in case of accidental peanut exposure.